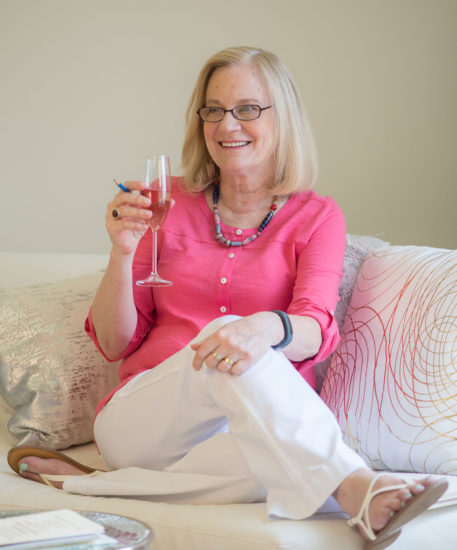 I began to admire beautiful calligraphy around the time my older brother was introduced to it while attending Reed College where Calligraphy was practically a requirement. I graduated from the University of Washington with a Masters degree in Social Work and my academic training to that point had never included any art related topics. Having always been envious of my brother's training, I immediately searched out classes in calligraphy once I moved to Massachusetts to begin my career in Social Work.
After many years of studying the art, I began to take on small calligraphy commissions while still working as a Social Worker, as my husband and I were raising our children. As the jobs increased and I became more confident in my skills, I realized how gratifying it was to create these pieces and decided to immerse myself fully into creating this as my full-time business. Over the past few years I have begun to take more art classes to offer more options to my clients. The Wellesley College Botanical Gardens program has become my new home where I am learning very precise and specific illustration skills. I am thrilled to add these illustration services to my calligraphy clients.
I have been so fortunate to have worked on so many wonderful and interesting projects but one of my proudest accomplishments was a piece I created for the Pope, which was also featured on the front page of the Boston Globe.
When I was asked to create this piece, I was not informed of who would be the ultimate recipient. I was given fifteen hundred first names of self-described survivors of clergy sexual abuse in the Boston Archdiocese and asked to create something special to honor them. It was important to me that each name (especially those that were duplicated many times) look unique. I painted soft backgrounds on full sized watercolor paper sheets, folded in half into folios, lettering 50 names on each page. A 40-page book was ultimately created which I later learned had been presented to the Pope by Cardinal O'Malley.
I also had the wonderful honor to have been chosen by Cheryl Richardson, a Life Coach and author from Newburyport as well as a regular on the Oprah Winfrey show, to create a special birthday present for Oprah's 40th. A special quote from Oprah was chosen as the centerpiece of this project and was surrounded with drawings of some of her favorite things. A couple years later, I happened to be watching the show where Oprah gave a tour of her Chicago apartment and spotted this special piece on her wall!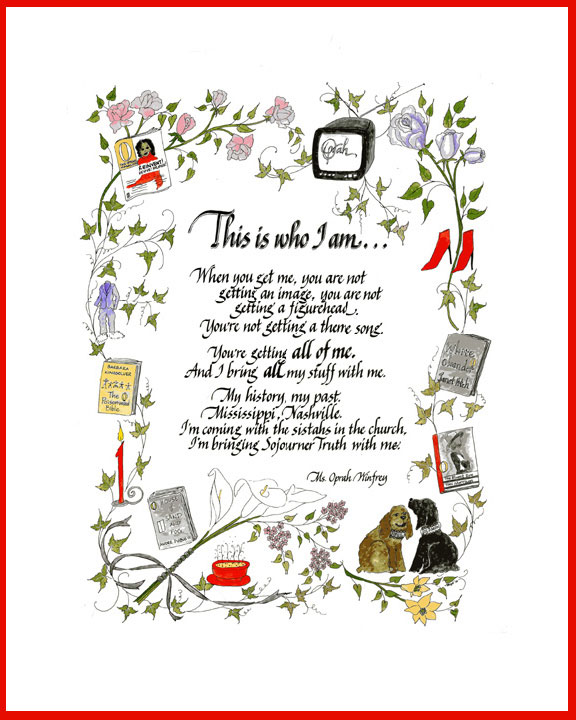 Work and daily life are constantly overlapping for me. I love to create illustrations of flowers, which has led to nature walks with my husband, beagle mutt Bobby and our growing family. I am a voracious reader and steal time throughout the day to read a chapter or two and still make the time to try something fun and new… right now I am taking tap lessons!